Online Classes from Randall M. Hasson
Writing with a Bent Nib is a five-part series of online classes from Randall M. Hasson that will make you fall in love with the square, round and oval-shaped Speedball bent nibs.
All five classes in the Writing with a Bent Nib series can be purchased separately or you can enroll in the Series at a special price: 
Classes start as soon as your payment is processed, they run on your schedule – and they do not expire! 
Students are invited to Randall's private Facebook Group where you can share your progress and meet your fellow students.
Scroll down for more details and to join Randall's email list!
Writing with a Bent Nib will add new lettering techniques to your repertoire
From vintage styles of the early 1900s to contemporary calligraphic work, the bent nib has amazing possibilities. In this five-part series, you will fall in love with the square, round and oval-shaped pen nibs as you learn to create lettering of all types – from elegant monoline scripts and italics and bold display faces, to blunt-edged and playful roman forms.
You will start by gathering some historical context of the invention of the Speedball nib, and explore tools and techniques that created distinctive lettering styles and characteristics of commercial letterers in the 1920s and '30s. In Classes 2–4, you'll use pen nibs developed with square-, round- and oval-shaped points as well as our familiar broad-edged tools.
With Randall's easy-going teaching style, you'll quickly learn how to translate the traditional techniques of calligraphy and adapt them to lettering of the early 1920s, including ornate drawn alphabets and bold-faced display lettering using multiple strokes.
In the final class of the Writing with a Bent Nib series, you will explore using these now-familiar bent nibs to create contemporary and inventive letterforms. By using pen lifts and pen manipulation, you'll be surprised by the number of unique effects you can create with these tools – including scripts that mock brush lettering, and designs that use both bold and delicate abstract forms.
Instructor Bio
Randall M. Hasson is an artist, calligrapher, instructor and speaker who has appeared on the faculty of arts, lettering arts, and educational conferences in the United States, Canada and England. He owned and operated the Randall M. Hasson Gallery from 2000–2013 in San Diego, CA and Santa Fe, NM. He is the author of articles on a variety of art or lettering art related subjects and has appeared as a mainstage presenter and/or teacher with lecture topics covering public art, art history, the painting process, collaborative art projects, and the history of writing including the recent invention of the ADLaM alphabet in West Africa.
In 2015, Randall co-edited the 24th (Centennial) Edition of The Speedball Textbook. He is currently writing and designing his forthcoming book Teaching America How to Letter – The Speedball Story, a history of commercial lettering and American show card writing in the early 1900s. It is due to be published by Letterform Archive in 2020.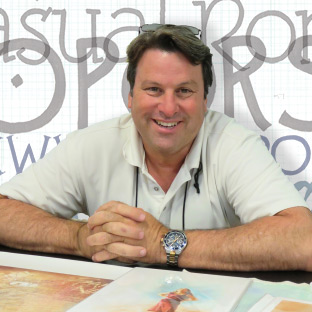 Learn more about each class
Vintage Lettering Styles
The poster artists of Europe created a burst of energy in hand lettering at the turn of the 20th century. American show card artists also created their own unique and playful lettering styles. This section highlights those characteristics that contributed to this vintage look and feel.
The Speedball A Series Nib
Rennie Mackintosh. London Underground. Neuland. Copperplate Gothic. The Speedball A nib was developed in 1915 to hand letter these at smaller sizes. This section introduces the bent nib and teaches hand-lettered styles that will expand your repertoire beyond the traditional broad-edged calligraphy nib.
The Speedball B Series Nib
This section explores the smooth and easy-to-use Speedball B nib, introduced in 1916. The B is a lettering favorite that can be used for creative styles of uniform-width lettering, including scripts, architectural styles, art deco era lettering, and traditional calligraphic hands.
The Speedball D Series Nib
The Speedball D nib, introduced in 1926, is an easy-to-use nib that creates subtle thick and thin lettering and a prominent "blunt" serif. Used for playful, vintage styles of lettering and the famous Metropolitan Poster style of the art deco era, this nib will be an easy adaptation for the calligrapher.
Contemporary Styles
This section explores the bent nib for contemporary versions of various mock brush styles using the A and B nibs. Contemporary lettering artist Michael Clark's stunning array of work is featured, along with a bonus video from Chiara Riva.
Randall Hasson delves into the background and unique characteristics of the Speedball A series nib – a square-shaped bent nib writing tool. Subscribe to HassonStudio YouTube Channel for more videos.  
Listen up! Randall was interviewed in Episode 19 of The Calligraphy Podcast: Show cards and Speedball with Randall Hasson. 
Sign up for the Writing with a Bent Nib List
Join Randall Hasson's email list, and receive a PDF copy of a fascinating article written by Randall Hasson & Michael Clark covering the history, tools and techniques of the Speedball bent nibs.