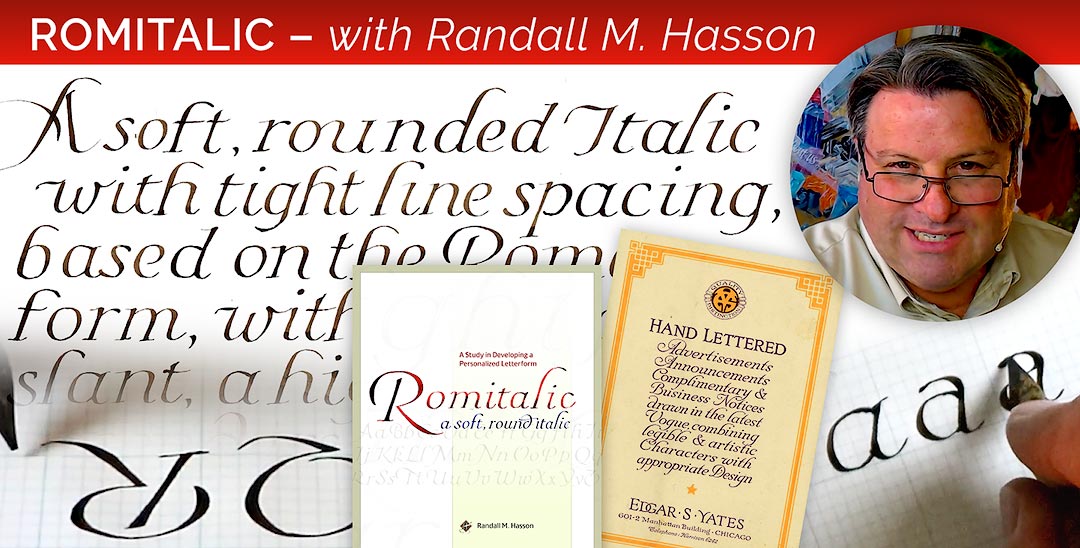 Romitalic from Randall M. Hasson
Join Randall Hasson on his journey of discovery and come away with a new lettering style as well as valuable ideas on how you can analyze a letterform you like and create something specific to your hand.
The lettering on a book cover provided the first spark of inspiration, while an advertisement from the 1920s set in motion the process of developing this new personalized letterform. Following a flurry of research into traditional Italic and Roman forms – as well as show card lettering styles of the early twentieth century – a soft, rounded, lyrical Italic hand evolved that Randall calls Romitalic.
Watch Romitalic now! Price $125

.
The class runs on YOUR schedule and does not expire!
View sample videos and the course curriculum. English Subtitles in progress.
Randall Hasson offers an overview of the Romitalic class. View more samples at the Romitalic Curriculum on the Courses Site.
What's Included
Romitalic is a prerecorded class that you can watch on your own schedule, and includes copious handouts and resources. Videos are recorded in 1080p HD with additional motion graphics, and your access to the classroom does not expire!
Students are invited to a private Facebook Group as well as regular Live Zoom sessions with Randall Hasson where you can get more information, ask questions, share your work, and meet your fellow students.
The duration of the Romitalic class is 3.5 hours.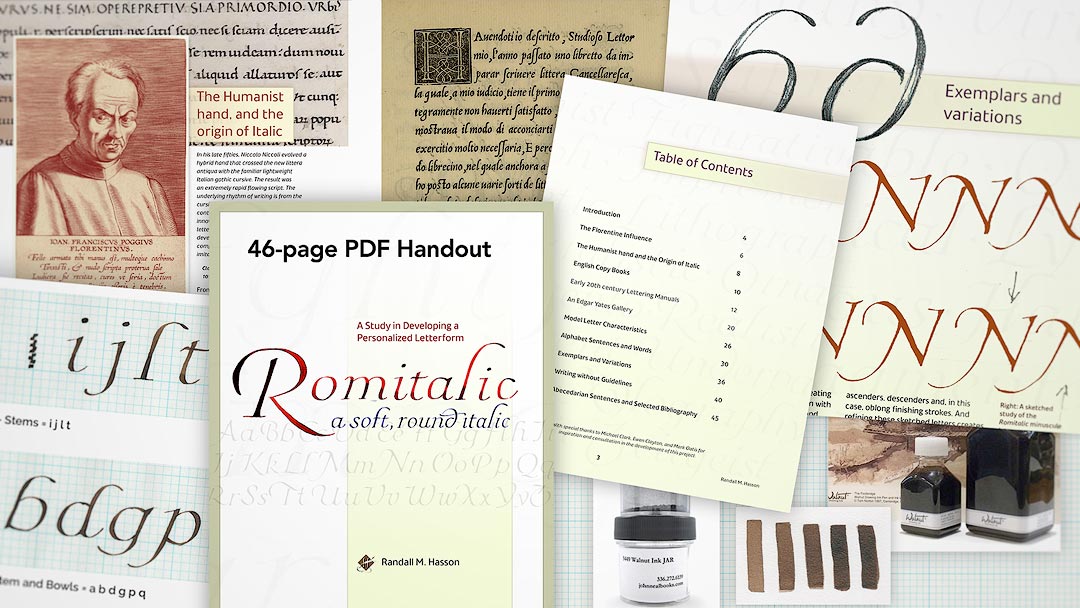 Getting Started & Handouts
Romitalic includes a 46-page color PDF with the exemplars for lowercase and capitals plus variations. This handout also details the many traditional and show card lettering styles that formed the inspiration for Romitalic.
If you're new to calligraphy, Randall also shares his favorite materials, as well as some tips for filling your nib with ink. The materials needed are minimal: A Speedball C-4 nib, a gridded pad, and a plentiful supply of a free-flowing ink such as walnut ink (view Materials List lesson).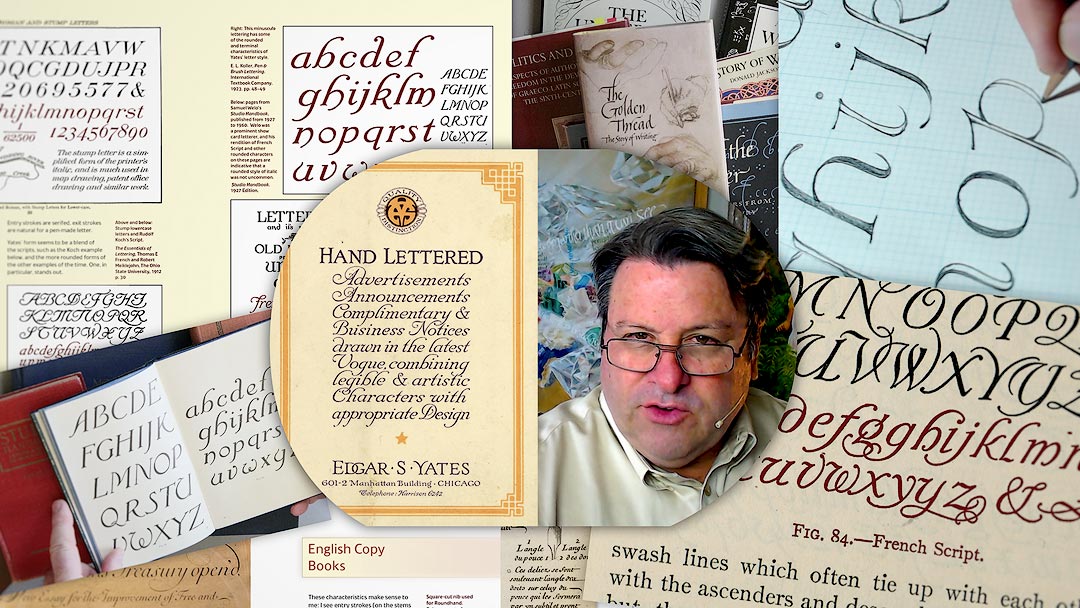 The inspiration for Romitalic
Randall's journey through the process of developing Romitalic will give you valuable ideas on how you can analyze a letterform you like and then create something specific to your hand. The main inspiration for Romitalic came from an advertisement by Edgar Yates – the soft, rounded letterform with a forward slant had an attractive lyrical quality. Further research made connections between historic calligraphic hands and the show card writers of the early twentieth century.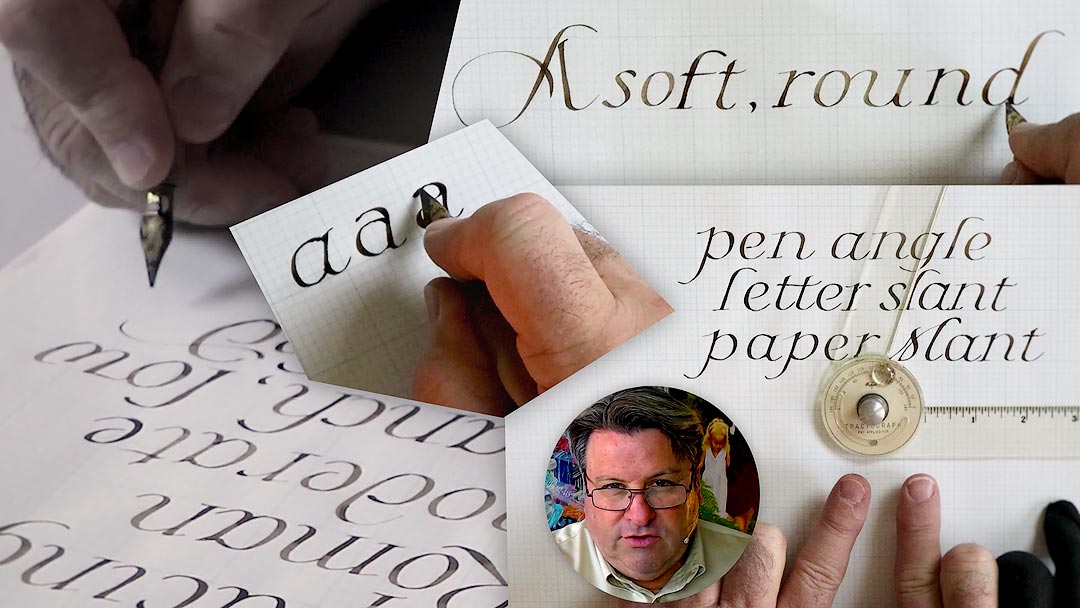 Romitalic Lowercase
After summing up the characteristics that make Romitalic unique (slant, branching, spacing, serifs, and more), this section takes you through the basic letterform in the minuscule or lowercase letters. The alphabet is presented in letter groups so that you can practice with letters that have similar characteristics, followed by writing the full alphabet from A to Z. You'll also learn about when and where to use alternate letterforms, so that you can adapt your letters in the course of writing words and sentences.
Romitalic Capitals
After a discussion about how the capitals were adapted to match the miniscules, Randall writes alphabet sentences and talks about putting all these forms together. You'll also learn valuable tips for writing Roman and Italic forms without guidelines – or with just a baseline [view Preview movie]. The idea is to arrive at a comfortable x-height and proportion for whichever letter style you are writing – along the way you will personalize the letterform based on what your hand actually wants to do!
Romitalic
–
Creating a Personalized Letterform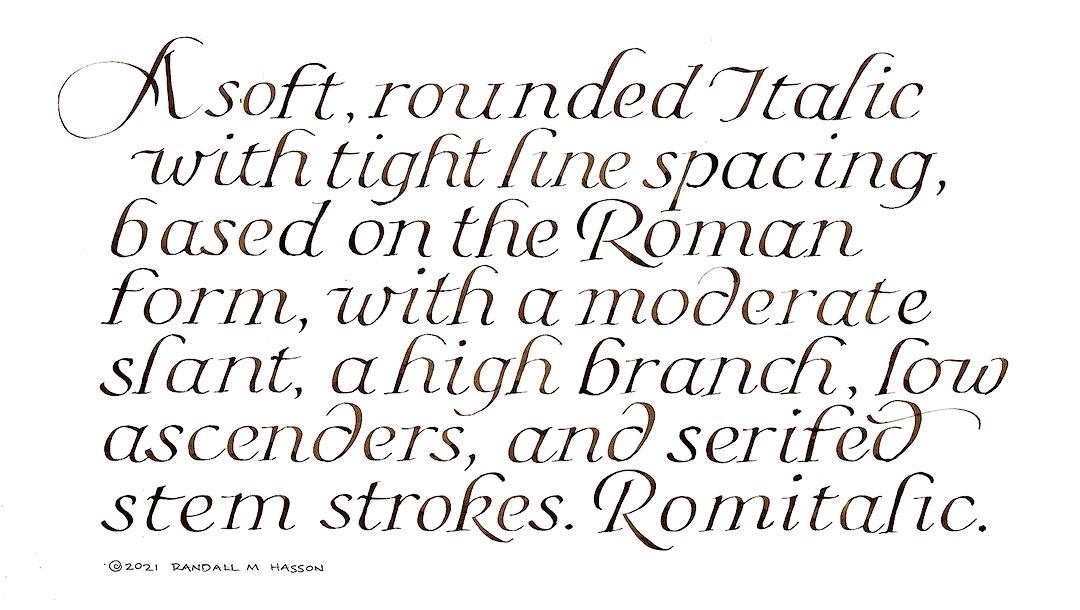 Watch Romitalic now! Price $125

.
The class runs on YOUR schedule and does not expire!
View sample videos and the course curriculum. English Subtitles in progress.
Instructor Bio
Randall M. Hasson is an artist, calligrapher, instructor and speaker who has appeared on the faculty of arts, lettering arts, and educational conferences in the United States, Canada and England. He owned and operated the Randall M. Hasson Gallery from 2000–2013 in San Diego, CA and Santa Fe, NM. He is the author of articles on a variety of art or lettering art related subjects and has appeared as a mainstage presenter and/or teacher with lecture topics covering public art, art history, the painting process, collaborative art projects, and the history of writing including the recent invention of the ADLaM alphabet in West Africa.
In 2015, Randall co-edited the 24th (Centennial) Edition of The Speedball Textbook. He is currently writing and designing his forthcoming book Teaching America How to Letter – The Speedball Story, a history of commercial lettering and American show card writing in the early 1900s. It is due to be published by Letterform Archive in 2020.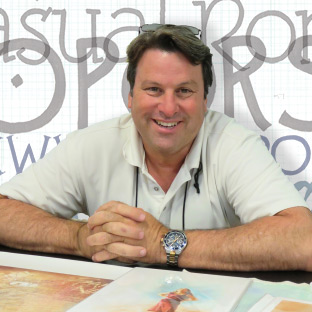 More classes from Randall Hasson
Writing with a Bent Nib Series
Writing with a Bent Nib is a five-part series of online classes from Randall M. Hasson that will make you fall in love with the square, round and oval-shaped pen nibs.
You can purchase the entire series for a one-time payment, or purchase classes separately.
Join the Writing with a Bent Nib mailing list!
Most Frequently Asked Questions
For a detailed overview of how our classes work and how to enroll, please see our FAQ page.
When can I register for a class?
Each instructor has their own class email list. We'll announce the launch date for each class as soon as we are close to the final edit, so be sure to join the respective email list and/or follow us on social media. Once a class is open, you can sign up at any time – there is no deadline and no limit on the number of students.
How do I watch a class I've purchased?
Our classes are streamed on our sister site (powered by New Zenler software). When you select the Courses Site tab above, or click the Enroll button, the sister site will open in a new tab.
When you Enroll in a class (using your email address), you will be asked to create a password. After you check out, you can watch the class immediately. The process is automated and does not require human intervention! 
We suggest you bookmark the class page on our sister site after purchase. Anytime you want to watch your class, visit that page and (if you are not logged in), Sign In (top right corner) and enter your email and password. You will then see a page called My Courses. If you forget to bookmark your class page, visit the Courses Site and Sign In.
If you have any problems with your log in credentials, please contact us. We can look up the email you used to register, and reset your password if necessary.
How long do I have to watch the class?
There is no time limit – you have lifetime access. As soon as you register, you will have immediate access to the entire class. You can watch the movies at your own pace as your schedule allows. (Practicing calligraphy should be fun – we don't believe in deadlines!)
What if I find a class is not for me?
We are producing our classes to a very high standard and believe our classes will be a great value, but if you don't agree (for whatever reason), we offer a 100% money-back guarantee within 30 days.