Online calligraphy classes for artists, by artists
Welcome to Sandia Workshops, a new online training site offering courses on calligraphy and mixed media. Our classes are prerecorded and professionally edited. You can buy any time, watch the lessons immediately and as often as you like – for as long as you like!
Classes start as soon as your payment is processed, they run on your schedule – and they do not expire!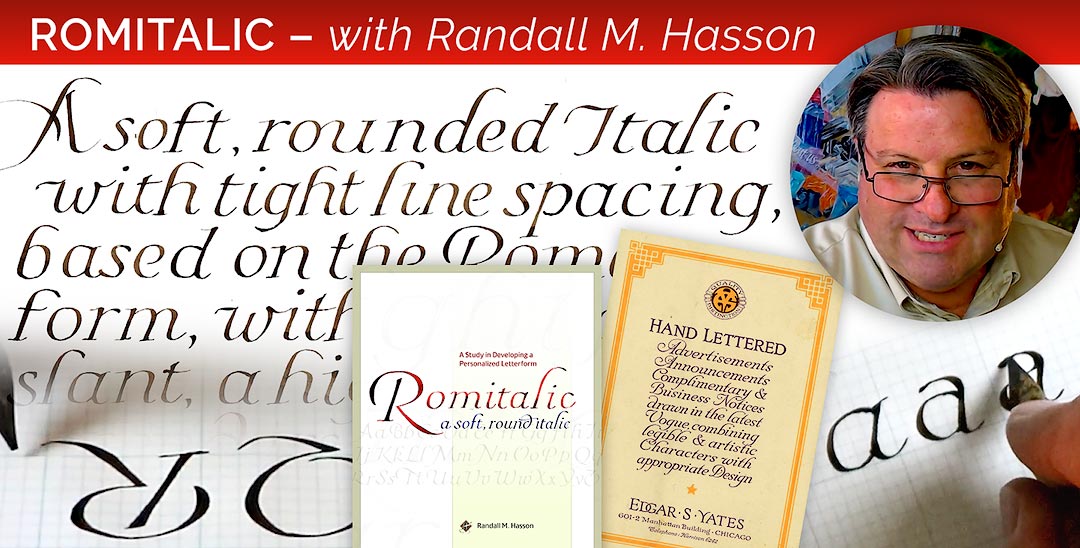 We're delighted to announce Randall Hasson's new class, Romitalic! Available now!
Learn a soft, rounded Italic based on the Roman form – and be inspired to create your own personalized letterform. Romitalic is a prerecorded class that you can watch on your own schedule, with over 3.5 hours of instruction, and includes copious handouts and resources. Learn more…
Also available from Randall is his comprehensive five-part series Writing with a Bent Nib that will make you fall in love with the square, round and oval-shaped pen nibs. Each class is sold separately or save when you enroll in the bundle. Learn more…
Additional Benefits: Students are invited to a private Facebook Group as well as regular Live Zoom sessions with Randall and your fellow students.
Two pointed pen calligraphy classes from Barbara Close are also available for purchase (see below) either individually or as a Series bundle. 
If you are enrolled in a class, log in to watch lessons on our Courses Site (look for the Sign In link in the top-right).
See our FAQ (Frequently Asked Questions) page for more details on how to buy and watch our classes, and contact us below if you still have questions! 
The following classes are available now:

Barbara Close is an internationally renowned calligrapher, designer and instructor with a passion for creativity and a love of lettering. She encourages her students to create appealing calligraphic art using a wide variety of mixed-media techniques.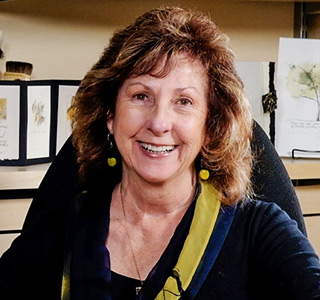 Class 1: Copperplate Essentials
Learn the elegant formal Copperplate script with Barbara's easy-to-follow method. Using a pointed, flexible nib, you'll start by learning the basic strokes that are the building blocks for the entire alphabet. By practicing lowercase and capital letters in groups of related forms, you'll soon be connecting letters and writing words with confidence. Copperplate calligraphy is perfect for creating graceful invitations, addressing envelopes, name cards, poetry and quotations.
Available now. Price $80. English Subtitles.
Click Enroll below to view sample videos and the course curriculum. 
Class 2: Contemporary Variations
Whether you're a new or seasoned calligrapher, take your pointed pen script beyond the formal with Barbara's lively variations. You'll learn a variety of alternate characters for every letter of the alphabet, explore myriad options for capitals, then combine these variations with traditional forms as you practice words from ornate to funky. Barbara also shares valuable tips and techniques for improving your layout and design in an extensive gallery section (watch preview).
Available now. Price $80. English Subtitles.
Click Enroll below to view sample videos and the course curriculum. 

Sign up for the Pointed Pen Possibilities List
As a thank you, you'll receive a free PDF copy of Attitude Is Everything, Barbara Close's enchanting handmade book. It features her signature contemporary pointed pen calligraphy, illustrating inspirational quotes with lively abstract designs that will get your creative juices flowing.
Online Classes from Randall M. Hasson
From vintage styles of the early 1900s to contemporary calligraphic work, the bent nib has amazing possibilities. In this five-part series, you will fall in love with the square, round and oval-shaped pen nibs as you learn to create lettering of all types – from elegant monoline scripts and italics and bold display faces, to blunt-edged and playful roman forms.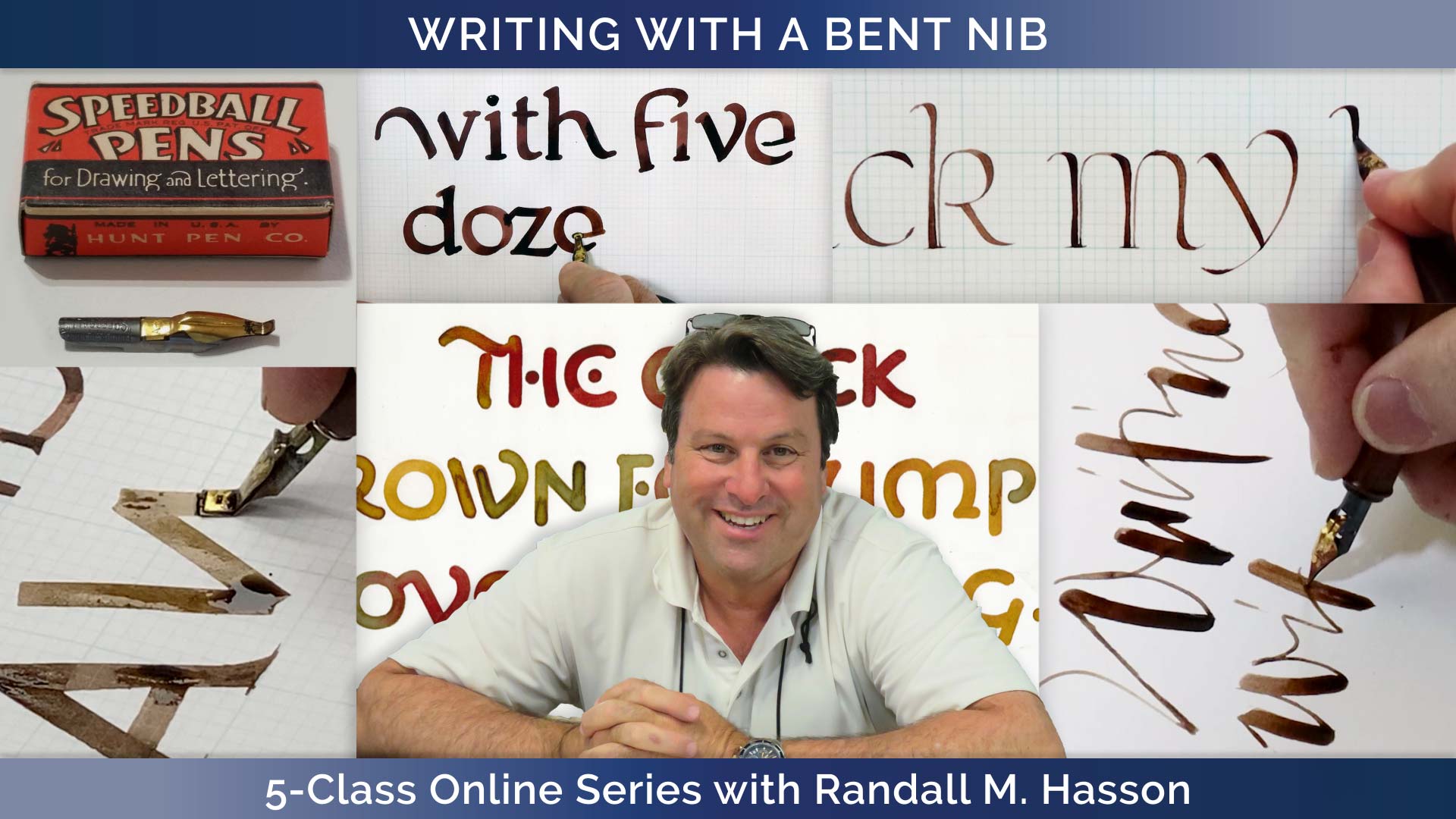 Randall Hasson's Writing with a Bent Nib five-class series consists of 17 hours of HD-quality prerecorded videos.
Individual classes are $100 each. Bundle pricing for all 5 classes, detailed handouts, and monthly zoom sessions, is an incredible value at $400 (or six $70 installments).
Additional Benefits: Students are invited to a private Facebook Group as well as a monthly Live Zoom session with Randall and your fellow students.
Sign up for the Writing with a Bent Nib List
Join Randall Hasson's email list, and receive a PDF copy of a fascinating article written by Randall Hasson & Michael Clark covering the history, tools and techniques of the Speedball bent nibs. 
Most Frequently Asked Questions
For a detailed overview of how our classes work and how to enroll, please see our FAQ page.
When can I register for a class?
Each instructor has their own class email list. We'll announce the launch date for each class as soon as we are close to the final edit, so be sure to join the respective email list and/or follow us on social media. Once a class is open, you can sign up at any time – there is no deadline and no limit on the number of students.
How do I watch a class I've purchased?
Our classes are streamed on our sister site (powered by New Zenler software). When you select the Courses Site tab above, or click the Enroll button, the sister site will open in a new tab.
When you Enroll in a class (using your email address), you will be asked to create a password. After you check out, you can watch the class immediately. The process is automated and does not require human intervention! 
We suggest you bookmark the class page on our sister site after purchase. Anytime you want to watch your class, visit that page and (if you are not logged in), Sign In (top right corner) and enter your email and password. You will then see a page called My Courses. If you forget to bookmark your class page, visit the Courses Site and Sign In.
If you have any problems with your log in credentials, please contact us. We can look up the email you used to register, and reset your password if necessary.
How long do I have to watch the class?
There is no time limit – you have lifetime access. As soon as you register, you will have immediate access to the entire class. You can watch the movies at your own pace as your schedule allows. (Practicing calligraphy should be fun – we don't believe in deadlines!)
What if I find a class is not for me?
We are producing our classes to a very high standard and believe our classes will be a great value, but if you don't agree (for whatever reason), we offer a 100% money-back guarantee within 30 days.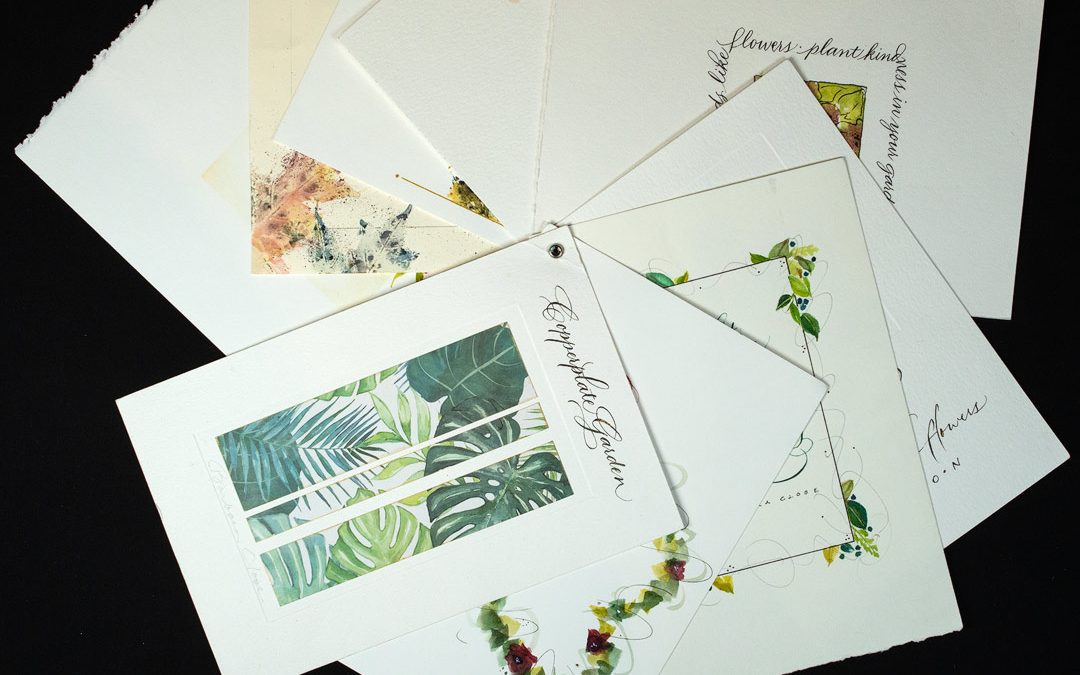 Barbara Close creates handmade books filled with small pages of calligraphic art. By creating individual pages, she can easily curate and assemble her favorite pages into a book. If you're afraid of writing in a blank book(!), check out these three easy bookbinding techniques.